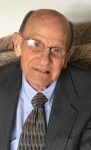 Donald Carlton Neal, Jr., 88, of Russell, PA, passed away at the John and Orpha Blair Hospice Residence, Warren, PA, after a short illness.
Born on February 27, 1929 in Curwensville, PA, he was the son of the late Donald C. Neal, Sr., and Matilda "Tillie" Haworth Neal. Don was raised in Punxsutawney, PA and Clearfield, PA, and graduated from St. Marys, PA High School. He served in the PA National Guard and then the U.S. Army during the Korean Conflict where he served as a field radio operator, a skill that became a life-long hobby, ham radio. On September 21, 1957, in Rocky Grove, Venango Co., PA, he married Sandra Joyce Turner. They resided in North Warren and then moved to Russell where they remained throughout their life together. After the birth of his children, while employed full time at the Warren State Hospital, he enrolled in the Nursing Program at Jamestown Community College where he earned his Associate in Arts Degree and attained his license as a Registered Nurse. He was then employed by Warren General Hospital as the first male RN in the hospital's history. Later in his nursing career he acquired his Nursing Home Administrator License and was then employed by the Central Nursing Home in Warren as the administrator. He was later employed by the Rouse Warren County Home as an RN until his retirement.
Don's meticulous and never-ending drive to find something else to conquer led him through an active life. In the early 1950's, he raced motorcycles on the Erie Harley Davidson Racing Team and was active as an amateur radio operator serving the state and county Emergency Management Agencies. He was an elementary school football coach. He taught himself to play the banjo. Don was also an amateur photographer with several nationally award-winning photographs and constructed his own darkroom. He served as a social member of the Russell Volunteer Fire Department and had served as an active member of the North Warren Presbyterian Church. He was also a member of the Masonic Order.
Don survived a quadruple heart bypass surgery, conquered and survived cancer. He has been a role model to his grandchildren and recently had become "Poppi" to his great granddaughter. His legacy of service and love will continue to live on through anyone that has known him and his family members.
Don is survived by his wife, Sandy Neal; a son, David (Suzi) Neal of Belvidere, NJ; a daughter, Beth Neal of Orlando, FL; a grandson, Michael (Stephanie) Robbins, of Pittston, PA; a granddaughter, Lauren (Mitchell) Jones, of Harmony, NJ; and a great granddaughter, Claire Audrey Jones, and a niece, Pamela McGarry. In addition to his parents, Don was preceded in death by his sister – Patricia Neal-McGarry.
A memorial service will be held at a later date and will be announced by the Donald E. Lewis Funeral Home, Inc., 304 East Street, Warren, PA. In lieu of flowers, the family asks that memorial donations be made to Hospice of Warren County, 1 Main Avenue, Warren, PA, 16365 for the benefit of the John and Orpha Blair Hospice Residence, or to North Warren Presbyterian Church Memorial Fund, 200 S. State Street, N. Warren, PA 16365. E-mail condolences may be sent by visiting www.lewisfuneralhomeinc.com