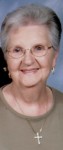 Barbara R. Confer, 81, of Warren, PA, died peacefully surrounded by her family and friends on Monday, December 28, 2015 at Warren General Hospital.
Barb was born on July 5, 1934 in Knox, PA, the daughter of the late Luther and Mabel Johns Read. On November 12, 1954 in Warren, PA, she married Richard L. Confer, who survives.
Barb was a graduate of Kane High School. She was employed for 25 years with the Blair Corporation as an order handler. She was a member of the Pleasant Community Church where she was Sunday School treasurer and a member of the Faith Circle. Barb was an avid reader, especially of the Bible. She loved her grandkids and, at the age of 80, discovered the Internet, which she enjoyed. Barb was also an avid Pittsburgh Pirates and Steelers fan!!
In addition to her husband, Barb is survived by her three children, Debbie Groves and her husband, Dennis, of Clarendon, PA, Jeff Confer and his wife, Carolyn, of Pittsfield, PA, and Lori Brown of Austin, TX. Barb is also survived by four grandchildren, nine great grandchildren, 2 step great grandsons, 2 step great-great grandsons, one brother, Jake Read and his wife, Jane, of Kane, PA, and many nieces and nephews. Along with her parents, Barb was preceded in death by four brothers and one sister.
Friends may call at the Donald E. Lewis Funeral Home, Inc., 304 East Street, Warren, PA, on Thursday, December 31, 2015 from 12Noon until 2:00P.M., at which time funeral and committal services will be held with the Rev. Brian Haight, officiating. Interment will be in Warren County Memorial Park. Those with to place a memorial may do so through the Warren Cancer Center, 2 Crescent Park, Warren, PA, 16365. E-mail condolences may be sent by visiting www.lewisfuneralhomeinc.com