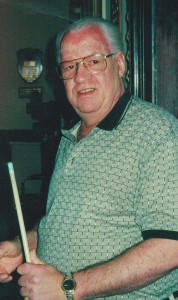 Albert L. Schenck, 72, of Warren, Pa. died Friday morning, December 16, 2011 at St. Vincent Health Care Center, Erie, Pa following an extended illness. Born January 9, 1939 in Corry, Pa. to the late Paul Russell and Lora Cornish Schenck, he lived much of his life in Warren. Albert graduated from Youngsville High School in 1959 where he excelled in football and track and field. He served his country in the US Army during the Korean War. He was employed at Lorangers Manufacturing as a production manager for 40 years before retiring. He enjoyed bowling, golfing, billiards and hunting for leisure. A 47 year member of the Warren Elks, he also was a member of the Warren Eagles, Blueberry Golf Course and supported Warren Sports though the boosters.
He is survived by his wife, Rose Mary Dangelo Schenck, whom he married September 14, 1963 in Holy Redeemer R.C. Church; Three children – Lori Moorman and her husband Ray, of Moon Twp, Pa, Pam Jameson and her husband Ron, of Youngsville, Pa, and Albert M. Schenck and his wife, Erin of Darien, Ct; Seven siblings – Paul "Junie" Schenck and his wife, Jackie of Bemus Point, NY, Phyllis Jordan and her husband Dick, of Lottsville, Pa, Helen Kjornsberg of Lakewood, NY, Dorothy Matjoulis of Jamestown, NY, Pauline Schenck and her companion Bob Girts, of Jamestown, NY, Ronnie Schenck and his wife Donna, of Lottsville, Pa, and Kenny Schenck of Bearlake, Pa; Seven grand children – Samantha Jameson Cober, Matt "Al" Moorman, Nicole Moorman, Jessica Jameson, Julie Jameson, Braden Schenck, and Ayla Schenck.
In addition to his parents, Albert was preceded in death by one brother – Bob Schenck; and one sister – Dorie Sechriest.
Friends may call the Donald E. Lewis Funeral Home, Inc. 304 East St, Warren, PA 16365 on Monday, December 19, 2011 from 2 to 4 and 6 to 8 pm, with a Vigil service at 7:45 pm. A Mass of Christian Burial will be held at 10 am Tuesday, December 20, 2011 at Holy Redeemer R.C. Church, with Msgr. John Lucas, Pastor, officiating and Deacon Joseph Lucia assisting. Interment will follow at St. Joseph R.C. Cemetery, where full military honors will be exercised. Memorial contributions may be directed to the Warren Elks Club, 341 Hickory St, Warren 16365. Online condolences may be offered at www.lewisfuneralhomeinc.com.